Buh-bye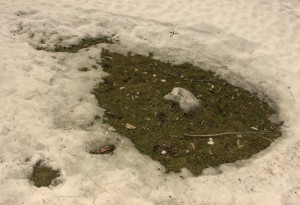 You're what? Snow. Girl. Melted! (a la B-52s)
Yep. Here lies what's left of Snowgirl. Look closely. That's her cute little carrot nose and stick arms. That pile of snow in the middle is, I think, what's left of her pretty hat. So long, Snowgirl.
I'd feel more smug about telling her not to let the door hit her on the way out, but I don't think she and her pal Old Man Winter are done with us yet. That's right. Snow in the forecast for tonight and tomorrow. Oh well. At least we had two glorious days with 50 degrees.
Posted by Becky @ 2:42 pm
One Response to "Buh-bye"
Amie aka MammaLoves Says:
March 18th, 2010 at 9:16 pm

More?

umph!
≡ Leave a Reply