My last poinsettia from Mom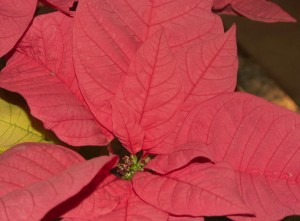 This was the last poinsettia I'll ever get from my mother on my birthday. She and my father had been doing it since I was born. Then, after Dad died, it was Mom.
See, I was born in December. Ten days later, they had me in church for baptism. They had poinsettias on the altar that Sunday. And they sang something about roses … oh, I don't know. She's told me the story a dozen times, and she told my children the whole story again last birthday. I didn't ask questions. Nor did I write any of it down. I just know that my birthday and poinsettias have always gone together.
Now? Not so much.