Get Your Costumes Ready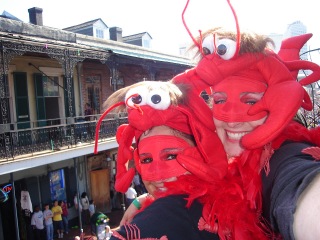 Get your costumes ready. It's nearly Carnival Time — also known as Mardi Gras. Hi folks, I'm guest blogger Laurel — also known as Road Trip Mom — and the editor/owner of MomsMinivan.com. Formerly I also wrote a Katrina Returnee blog, but those days are long behind me now. I prefer to focus on the fun times that still continue at my former home in New Orleans. Like Mardi Gras – my favorite holiday.
That's right, a real holiday — as in banks are closed, no school, no mail delivery, everyone gets the day off to eat, drink, and be merry. It's actually more than just a holiday – it's a whole season. New Orleans really only has two seasons: Summer and Mardi Gras. Just one more day until the debauchery begins. January 6th is Twelfth Night which marks the start of Mardi Gras season which then comes to it's grand conclusion on Fat Tuesday.
One of my favorite Mardi Gras Day memories was the first Fat Tuesday following Hurricane Katrina. I spent it with my friend Devra. Being that it was the first Mardi Gras after Katrina we weren't really sure what to expect, but we were not going to miss it, and we were going in full costume, of course. Mardi Gras is infinitely more fun if you are in costume.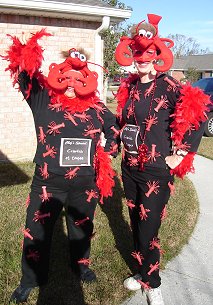 We decided to put a spin on one of our favorite local dishes, Crawfish Etoufée, and wear it as our costume. We found some crazy crawfish hats and added little brown wigs, and covered ourselves from head to toe with rubber crawfish. We wore little signs that said, "Chef Special: Crawfish Et Toupee".
We started out with a quick breakfast in the outdoor patio at Cafe Dumonde by the river (a popular tourist spot). Beignets and cafe au lait hit the spot and tourists immediately began to swarm us like papparizi wanting our picture. We obliged and then proceeded into the French Quarter for some bizzare people watching and more photo ops. Costumers were basically in two catagories that year: those in traditional "anything goes" costumes, and those in Katrina themed costumes.
We were in the anything goes group, as was this cute couple dressed as Got MILF? and these guys dressed as a fur burger and bearded clam. We also saw a guy dressed as the Yellow Brick Road. He had a whole group of people dressed as Wizard of Oz characters who were ….. following him. The French Quarter swelled with party goers and costumers galore. The overall turnout was huge, which says a lot for the spirit of the people of New Orleans.
Some of our favorite Katrina costumers were these folks wearing rubber inner tubes so they'd be ready for the next flood. We also saw people dressed as duct taped Rotten Refridgerators, Blue Tarped Roofs, and even Mardi Gras Maggots. We laughed out loud at the Ho Depot Ladies, Looters with Hooters, and my all time favorite Blind Levee Inspectors. (I posted all our photos at Mardi Gras Costume Pics.com)
We hit a few parades, listened to some live music, and enjoyed the sights. We eventually stopped in a restaurant for a little lunch — you would think it would be hard to find food on a day so crowded, but it never is. Parking is never a problem either if you know where to go.
After lunch, it was time to wave hello to the Internet Bourbo cam, and then go in for a little karaoke at the Cat's Meow. I am not exaggerating when I say that we brought down the house with our rendition of "Respect" dressed as crawfish ladies. Gawd, I love singing karaoke. Especially when I'm wearing a mask….. and a score of rubber crustaceans.
As the afternoon went on, the streets became more and more crowded. It was a good time to try to find a balcony for a better view. I happen to know that there are several bars that will let people wearing cool costumes use their balconies for free. From our high perch, we danced to the music and taunted tourists below with our supply of beads while they waved and clamoured for us to throw them down. It was like being a rock star for a day.
At one point during our adventure, I took a photo of Devra using a trash can to actually throw away some trash. We wanted to set a good example for others. Maybe start a trend.
Eventually we headed home with our photos and memories of a wonderful day. Everyone should experience Mardi Gras at least once in their life. And you simply MUST wear a costume. You can be anything you want. And if you just can't come up with a costume, you can always just wear your suitcase. That works too.
Posted by Laurel @ 3:07 am
≡ Leave a Reply