Books: The Fiddler in the Subway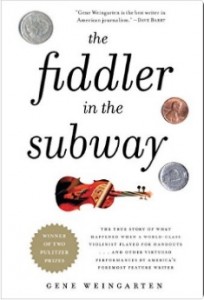 Title: The Fiddler in the Subway (Simon & Schuster, New York, New York, 2010)
Author: Gene Weingarten is a nationally syndicated humor columnist and writer for The Washington Post. He is the only two-time winner of the Pulitzer Prize for Feature Writing. With his son, Dan Weingarten, and cartoonist David Clark, he is the author of Barney & Clyde, a daily newspaper comic strip launched in June 2010. He lives in Washington, D.C.
What happens when you pick up the last book you will ever read? When the writing is so good that it will ruin everything else for you? Gene Weingarten's writing did that for me. This book — The Fiddler in the Subway — is a collection of feature writing he has done at The Washington Post. Two of the pieces won Pulitzer Prizes.
Only three stories in — The Great Zucchini, The First Father and The Ghost of the Hardy Boys — and I thought, "If you want to write, read this book. If you want to teach others to write, use this book. When I write, I want to write like this." It is beautiful, masterful stuff.
Reading further, I thought, "I can't recommend this book. I just can't. It will ruin every other writer for you until the end of time. I don't know if I can read anything else after this book."
Then I mustered my best Jimmy Dugan voice and yelled, "There's no crying in journalism! Why is he making me cry?"
I read "Pardon My French" on the 72nd anniversary of D-Day in Normandy. It's the one that made me laugh out loud. Then giggle at how delicious it was that he found just the right way to get the most honest responses from French folks. He calls it the Machine. I call it hilarious.
Every paragraph in "Fatal Distraction" is a punch to the gut. I almost couldn't bear to read it. But I let Weingarten take me by the hand and gently lead me through the horrific experiences of the people in this piece.
Weingarten quotes Franz Kafka: "The meaning of life is that it ends." This is the heart of everything he writes. This is what breathes life into every word.
Is this the last book I'll ever read? Well, no. I could no more stop reading than I could stop breathing. I will, however, measure everything else I read against Weingarten's writing.
——————————————–
Thanks to Jeff Sharlet, who suggests so much good writing. He led me to Weingarten. "Thanks" is not enough, but it will have to do.