Waldorf cookbook
June 12, 2011 | Food,Iowa
As Anne Bakke made the syttende mai dinner, she kept mentioning "the Waldorf cookbook." In fact, all of the recipes she used that night came from it. I wanted to get my hands on this cookbook. I finally found one from a collector just west of here.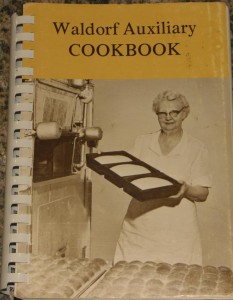 The best I can determine, the cookbook was published in 1981, in honor of Tillie Rasmusson, who was food service director at Waldorf College for most of the 20th century. According to The Iowan, "She was beloved for her welcoming campus kitchen, housed in the basement of Salveson Hall, and for her delicious cinnamon rolls, baked every weekend. Waldorf students would reportedly make their travel plans around Rasmusson's baking schedule, returning to campus in time for rolls fresh from the oven. So legendary were those rolls that two of them were placed in the cornerstone of a new building dedicated in 1955 — Rasmusson Hall."
According to Waldorf, "Rasmusson Hall (1955) is a three-story residence hall for approximately 56 students. It is named for Tillie Rasmusson, a former food service director who was beloved for her caramel rolls."
The cookbook opens with Tillie's Chapter and Recipes.
"We feel it appropriate that this cookbook be named in memory of Miss Tillie Rasmusson, since for nearly fifty years she served delicious meals to thousands of students, teachers, and friends at Waldorf College. If there is one thing everyone remembers about Tillie's cooking, I'm sure that it would be her cinnamon rolls. Students, especially the men, who went home for the weekend would return Sunday morning in order to enjoy Tillie's rolls.
"Just before Tillie retired I asked her about the amounts purchased and the amounts served at the college while she was cook. She fed around 375 students and teachers every day. As you read the quantities remember everything was 'home baked.' There were no cake mixes, no frozen foods and no instant potatoes. When I mention potatoes, she didn't have an electric peeler for many years, so they peeled the potatoes by hand.
"40 sacks of flour every two months (100 lb. sacks)
150 lbs. of potatoes a day
60 dozen eggs three times a week
150 lbs. of butter a week
150 lbs. of roast beef for one meal or
10 large turkeys
12 gal. of canned fruit for sauce
75 gal. of milk every day
Every Saturday she baked
50 loaves of bread
500 buns for maid-rites for Saturday evening
15 doz. large cinnamon rolls
55 pies — each pie cut in 7 pieces"
That section includes the ingredients for rolls, although I'm not sure whether they were cinnamon rolls, caramel rolls … or both, but the recipe was for making a couple hundred rolls. It also has 13 other recipes, with a few Norwegian delicacies, such as fattigman and julebrød (Christmas bread). The rest of the cookbook is filled with recipes — Norwegian and otherwise — from others.
Posted by Becky @ 11:23 am
≡ Leave a Reply