Books: Final Salute ~ winners announced
June 10, 2008 | Books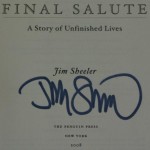 As promised, here's the list of people getting autographed copies of Final Salute by Jim Sheeler.
1) Gunfighter, who wrote
In the course of my life, I have viewed Memorial Day through different lenses.

As A child, I thought of Memorial day as the beginning of the summer season. There was a holiday, and flags, a trip to someplace warm in my future, and the joyful knowledge that school would be out for the summer in a few weeks. The world was alive with possibilities.

As a younger man, who enlisted in the Marines in 1981 (at age 17), Memorial Day was a day that the "Old timers" would draw away from the us young-bloods. They would share stories, and private thoughts and exchange somber greetings with each other. You see, in those days, the "Old Timers" were the guys who had served, and lost friends, in Vietnam. I sort of understood it, then, but it wasn't personal.

As a veteran who is settling into the reality that I now have fewer days left in front of me than I do behind me, I see memorial day through an entirely different lens.

Today, I see Memorial Day as a day to remember friends who served with me. I see Memorial Day as a day to honor those who served their country honorably, and gave their lives in the ultimate sacrifice.

I served in the armed forces at the end of the Cold War and through a couple of hot ones. Beirut, Lebanon; Grenada; Panama; The Persian Gulf War… I have friends who were killed in some of those places. I have friends who stayed in the service, who are now the "old timers" themselves. Many of these friends have served in Iraq or Afghanistan more than once.

I have coworkers who are Reservists who have been wounded in Iraq and Afghanistan. Their wounds, and suffering are important to me… they are personal.

On this Memorial Day, I will continue to honor the sacrifices of my friends and my younger comrades who are now taking my place in the line. Sure, I'll still worry about them, and I'll still have my own grave misgivings about the reasons for the current war, but this will not diminish the pride I feel at having been part of the superb forces that serve America.
2) Caroline, who wrote
My father, at 66 years of age, is currently working for USAID in northern Vietnam, he's trying to clean up remenants of agent orange. A daunting task to say the LEAST. But this is actually a fairly relaxing post for him. Last year, he was in Kabul, Afghanistan for 4 months. He did about 4 "tours" of this sort trying to assist farmers with alternative livlihood methods – farming options OTHER than growing poppies. And war lords weren't his biggest fan. Anyway, my point is, his life was at stake. Everyday. He wore flak jackets to work and literally had 12 "shooters" around him where ever he went. And this is where Memorial day comes into the picture for me. The men protecting him? The "shooters" that escorted him all over town and all over the country? They were kids – 21, 22, 23. And when my Dad spoke with them, they had such dedication to their jobs and their country. They were ready to die for my Dad. My Dad!? Who always loses his glasses, is late for everything and doesn't know how to wash his own shirts? They would give their lives for my Dad? And some did while my father was there. On Monday (and many other days) I remember them and thank them for allowing my Dad to make it home for our Christmases, a graduation, seeing his third grandson born – just continuing his life with us. Bless them and I thank them from the bottem of my heart.
3) Bob, who wrote
To some military musicians and ceremonial guardsmen, every day is Memorial Day.

I'm a military musician in Washington, DC. Where I work, the main mission is rendering final honors to the dead at Arlington National Cemetery. Though performing is not my primary duty (I'm usually off in the corner where they keep the creative types), I am occasionally called on as an extra or substitute drummer for a funeral.

Even for a stand-in like me, it is all too easy to regard the job with a sense of routine. A military funeral is, after all, a ritual that has changed little over the centuries, and the troops who perform it are professionals whose principal job is to perform it as many as four times a day.

Services are virtually identical from one to the next. It is rare for members of the ceremonial unit even to know the name of the deceased. But even though the services may blur together in a performer's memory -— indeed may seldom have any distinctive resonance as little as a day later -— the performers know, every time, that for the family and friends gathered to honor their loved one, it is a singular occasion of immeasurable significance, and it will be remembered.

I know what it's like to get a "thank you" for -— to my thinking at the moment -— just doing my job. When a boss or supervisor says it, I often blow it off and keep on working. But when it comes from someone who is genuinely moved by the solemn spectacle of the military's most fundamental honor, that is something else entirely. I know that for Memorial Days to come, they will recall the funeral as a fitting and proper tribute to someone who deserved nothing less.
and …
Andy, who entered over at eMail Our Military, wrote
Rarely do contests. Figured, I participate in this worthy project.

Semper Fi!

Andy Valadez
USMC 88 to 92
Thank you again to everyone who participated.
Remember:
1) Read it.
2) Write about it.
3) Pass it on.
Posted by Becky @ 10:45 pm
One Response to "Books: Final Salute ~ winners announced"
Caroline Says:
June 15th, 2008 at 2:20 pm

Thank you again Becky! And I talked to my father in Vietnam the other day and he was very glad to hear I shared his experience with you. He has no words for how humbled he really has been by the men – close to a third of his age – serving our country abroad. And he can't wait to read the book too!
≡ Leave a Reply