Me, too
Me, too.
My pastor talked to me about what a wonderful and healthy thing pornography was. I was alone with him in his car. I was 5. When I was an adult, I learned that he was later arrested for molesting children. How many voices had to be heard before that ever happened? Or, asking another way, how many children had to be hurt?
I spent the night at a friend's house. While there, her two older brothers crept through the hallway by her room. They were naked.
I went with a friend to a family gathering. I was told to go meet her grandfather. I stood by his chair. He reached under my skirt and, with his long, sharp fingernails, pinched the skin on my butt until he drew blood.
I went with my family to visit another family's house. The grownups sent me off to play with their son in his room. I'd heard he had a train set. Instead of playing with it, though, he forced kisses on me and put his hands on me. I told him to stop. He did it again. I was 7.
I was on a playground with my older brother. Another boy, who was much bigger than I was, picked me up in a big bear hug and shook me. I screamed for him to let me go. I cried and begged my brother, who was at least as big as this other boy, to make him let me go. My brother laughed.
When I was in confirmation class, 8th-grade boys made gigantic rubber bands by stringing together dozens of regular rubber bands. Some of the boys were taller than my father. They, in their man bodies, were all bigger than I was. They sat behind me, and throughout the class, snapped my butt with the gigantic rubber bands. It hurt and made me cry. Nobody said anything or made them stop; not even the pastor, who led the class. This happened all year. I was 11.
When I waited tables, a man grabbed my ass as I put his plate on the table. The owner, a married man with children, fired me because I wouldn't flirt with him. I was 16.
In September of my last year of college, an 18-year-old freshman went missing. Women and girls were terrified. Women who had night classes would wait together outside for rides, instead of walking home in the dark. They held "Take Back the Night" marches. They wrote articles and letters to the editor. They bought mace. Police found the freshman's body in December. Two men raped and killed her and left her naked body in a field.
When I lived alone in my 20s, a man I'd known as a friend for years, visited me in my home. Without asking, he followed me to my bedroom, pushed me down on my bed and tried to kiss me. Another man — married with children — I'd known as a friend for years, stalked me and left dozens of messages on my answering machine. He knew where I lived, and I knew he was in town, so I left my home and stayed away for an entire day and night.
---
Side note on waiting tables: As much as my husband loves his daughters — and he grew up in socialist Norway where women and men have closer equality than many places in this world — he still sometimes doesn't get it. He's told one of our daughters, who is always helping others, that she should be a waiter. This bugged me at the time, but I didn't know why. A little more recently, I shared my experiences as a waiter in the presence of my husband, some friends and our kids. Even after my husband heard this story, he still — at a later time — told our daughter that she should be a waiter. I was dumbfounded. Did he not hear my story? What part of my experience did he want our daughter to have? Then it occurred to me, he must see my experience as a one-time thing, because he CAN see it that way. But if he heard the stories of all kinds of women who have worked as waiters, maybe then he would see that my experience was not an isolated incident. (That's the power of #metoo.) Otherwise, he'd still believe that our daughter could sidestep an experience like mine. Because he makes the mistake of believing that his daughter walks through the world like he does, not like I do.
Husbands might not understand. Until they do. Chris Richards is a pop-music critic for The Washington Post. His wife, Caitlin Gibson, is a feature writer there. In December 2016, they both had stories that ran on the same page. Both their mailboxes filled up with email. Many of Gibson's emails called her vulgar names. None of the emails to Richards did. In fact, he said, he's never been called vulgar names by readers, but it's routine for Gibson. You can see his Twitter thread here: https://twitter.com/Chris__Richards/status/806611671871606784. In case it disappears, here's a screen shot: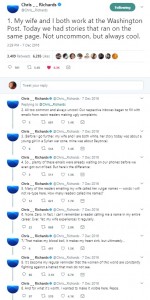 ---
I spent a lot of time in my children's elementary school, volunteering in their classrooms. When one of my children told me that some boys were calling a girl some awful names, I spoke to the teacher and then the principal about it. The principal had talked to the girl and her parents. He was convinced that her capacity for understanding was diminished, and she was not hurt by the names. He missed the point. Did he talk to the boys and their parents? If he didn't, he should have. When the boys called this girl a freak (or worse) and grownups didn't stop it, it's not only about the impact that has on the girl. What does it do to the boys? It allows them to dehumanize another human being, while at the same time diminishing their own humanity. And what does it do to the children who witness that behavior? It normalizes it. This is how it starts.
Seeing. Standing up. Speaking out. By men, most especially. (Men, collect your people.) This is how it ends.
Others write about this:
"Dear Men: It's You, Too," Roxane Gay, The New York Times, Oct. 19, 2017: https://mobile.nytimes.com/2017/10/19/opinion/metoo-sexual-harassment-men.html
"The woman behind 'Me Too' knew the power of the phrase when she created it — 10 years ago," Abby Ohlheiser, The Washington Post, Oct. 19, 2017: https://www.washingtonpost.com/news/the-intersect/wp/2017/10/19/the-woman-behind-me-too-knew-the-power-of-the-phrase-when-she-created-it-10-years-ago/
"#MeToo, #ItWasMe, and the Post-Weinstein Megaphone of Social Media," Alexandra Schwartz, The New Yorker, Oct. 19, 2017: https://www.newyorker.com/culture/cultural-comment/metoo-itwasme-and-the-post-weinstein-megaphone-of-social-media
"The Conversation We Should Be Having," Rebecca Traister, The Cut, Oct. 19, 2017: https://www.thecut.com/2017/10/harvey-weinstein-donald-trump-sexual-assault-stories.html
"What school dress codes have to do with Harvey Weinstein," Soraya Chemaly, The Washington Post, Oct. 20, 2017: https://www.washingtonpost.com/news/parenting/wp/2017/10/20/what-school-dress-codes-have-to-do-with-harvey-weinstein/?utm_term=.ce009dbaf44e