Apple tree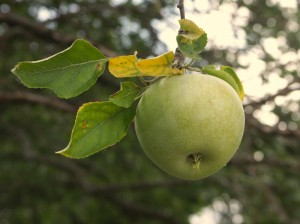 Our apple tree is loaded with apples this year. I've got to get into harvest mode soon. I might try making apple jelly this year.
What's your favorite recipe for apples? Pie? Salad? What's the craziest apple dish you've eaten? Let me know. I love new recipes!
This is one of my new favorites from my aunt. We ate these when we were in Missouri. Yum!
Aunt Carolyn's Candy Apples
Ingredients
4 apples, peeled and sliced
A little water
Red Hots candy
1/2 cup sugar
Cinnamon
Place sliced apples in a skillet with a little water and heat. Cover with Red Hots. Stir only after juice from apples accumulates. Add sugar and cinnamon. Cook until soft.