Wine: Picket Fence
April 27, 2010 | Iowa,Wine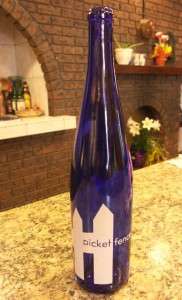 I am by no means a wine connoisseur, but I like to drink it, and I really like to try local wines. I was surprised to learn how many wineries there are in Iowa. We even have one just down the road from us. What's better than trying the local flavor of your new home?
This isn't a review. I'll leave that to the experts. No, this is more of an American Bandstand Rate-a-Record opinion, "It's got a good beat, and you can dance to it. I give it a 98, Dick." Only, you know. With wine. And without Dick.
I recently tried Picket Fence, a semi-sweet white wine by Park Farm Winery in Bankston, Iowa. It was recommended to me by Eric in the liquor department at Hy-Vee in Mason City. It was $9.99. (He was spot on with all his recommendations.)
On the bottle: "A crisp, clean, semi-sweet white wine. Our Picket Fence pairs wonderfully with fish, seafood, chicken and pork dishes; especially when cooked with butter or cream sauces. Not too dry, yet not too sweet, this wine is on the fence!"
I really liked it. I like white wines, especially German rieslings, but some of the Iowa whites I've tasted are way too sweet with a "homemade" taste to them. Picket Fence, though, was just the right balance for me. I drank it with a ham dish with a cream sauce — a recipe I got from @collisionbend (Thanks, Will!) — and it was tasty.