Books: Iowa City Book Festival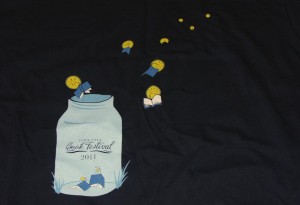 I attended the Iowa City Book Festival this weekend. Even though we were under an excessive heat warning (it felt like a slap in the face to walk into the air-conditioned campus library), it was fabulous. I got to listen to and meet several authors, visit some wonderful independent bookstores and see my friend Maren again!
More photos and info to come.
Posted by Becky @ 6:00 am
2 Responses to "Books: Iowa City Book Festival"
Deb Says:
July 19th, 2011 at 7:30 am

Cool! Can't wait to hear.

Deep Muck Big Rake » Books: Authors in Iowa City Says:
July 22nd, 2011 at 6:02 am

[…] went to the Iowa City Book Festival on July 16 and 17. Even though I saw some wonderful authors and visited some great independent […]
≡ Leave a Reply