Blackbirds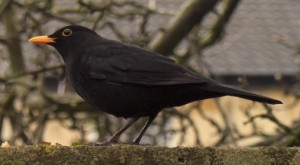 Listen up, yo. I'm sure you think of yourselves like this. Sorta poetic and all.
Blackbird singing in the dead of night
Take these broken wings and learn to fly
All your life
You were only waiting for this moment to arise.
I'll tell you what, though. You keep trying to build a nest in my dryer vent? I'll be singing this song.
Sing a song of sixpence,
A pocket full of rye.
Four and twenty blackbirds,
Baked in a pie.
Fair warning.
Posted by Becky @ 7:20 pm
3 Responses to "Blackbirds"
Linda Says:
April 5th, 2010 at 2:17 am

Funny as all hell, but not very tasty. Won't be having pie at your place anytime soon!

Becky Says:
April 5th, 2010 at 5:40 pm

Ha! I'll let you know when it's time for apple pie and especially my husbands eplekake (apple cake). MUCH better than blackbird pie, Linda. :)

Becky Says:
April 5th, 2010 at 5:41 pm

Yeah, that would be husband's. I've only got one.
≡ Leave a Reply