How much is that doggie in the window?
December 30, 2008 | Stuff
I bought a pillow a while back for the dog's bed and saved it for Christmas, when she "wouldn't be chewing everything up."
What was I thinking.
This is the dog who eats ice, snow, wood and rocks. Who devoured a new toy in 20 seconds flat … literally, poof! gone. Who inhales pig ears and rawhide bones. Who ate the bark off the amazing apple tree … will that kill the tree?
(Don't worry. She eats plenty of real food. I'll have to start collecting it in a semi-trailer at the farmer's co-op soon. That's how much real food she eats.)
Who chewed through a medium-thick vinyl-coated galvanized-steel tie-out cable.
(And, no, she's not tied up 24/7. She hasn't even been tied up since then because she's always been good about staying in the back yard behind the house. Today? I found her on the edge of the highway.)
When I bought a heavy-duty cable a couple of weeks ago, the checkout guy said, "Wow. You must have a big dog."
Well, yeah. She's a big puppy, and she already chewed through one of these.
"One of these metal ones?!?"
Yup.
She's already started working her way through the new one.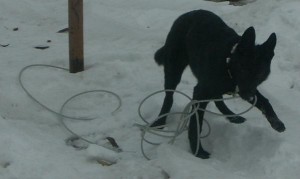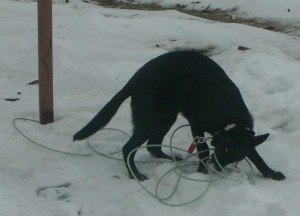 She'll chew on it for extra measure even when she's not attached to the end of it.
I give it, oh, three weeks tops before I run out of ways to keep her off the highway.
See that little Santa collar with the bells?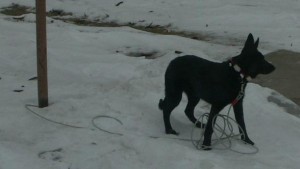 After I put that on her, I completely thought it would be in shreds the next morning, and I'd find her chewing on the metal bells. She apparently likes it, though.
Her new pillow? Not so much.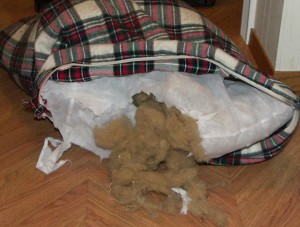 That's after all the innards had been stuffed back inside. The reason she doesn't hang out much in the living room? Because I don't want my sofa to look like that. And, believe me, it would.
I'm reading this book, written by Paul Owens, The Original Dog Whisperer. (I didn't realize there was more than one. Now I know.)
I'm really trying, y'all. But this is the reaction I get.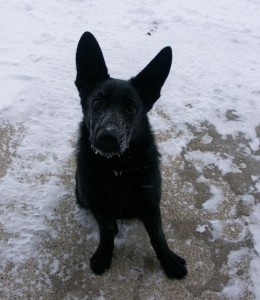 If that's what she did when I tell her to "sit," that would be great. But this is what I get when I tell her to "come."
I watched Cesar Millan on Dog Whisperer recently.
Please tell me it's not a bunch of smoke and mirrors. Please tell me he doesn't spend three weeks training some dog and make it look like it takes him three minutes.
If either one of these whispering guys can teach me how to get my dog to do ANYTHING in three minutes (three days or, heck, even three weeks)? I'll make him a turkey dinner.
Or, I don't know. Maybe I need an exorcist.
Sigh.
Why didn't I get a hamster?
Posted by Becky @ 9:56 pm
6 Responses to "How much is that doggie in the window?"
≡ Leave a Reply