It's like buttah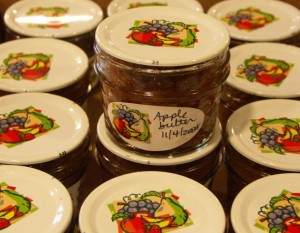 Well, not exactly buttah. I cheated and didn't use a strainer or food grinder, so my apple butter is lumpy. But, hey, it's apple butter. I got fancy yesterday and used the food grinder on the applesauce. It's more like buttah than the apple butter. Oh well.
I heard someone on election night say that everyone will remember exactly where they were when Barack Obama was elected president. Yep. I was at home. Making apple butter.
Congratulations, President-elect Obama, on your victory.
You said you need my help.
Yes, you do.
You said you will be my president too.
Yes, you will.
You said you hear my voice.
I'd love to agree with that, but you have shown me that you hear only what you want to hear. So, while I have a whole lot of other things I could say, I'll leave it at this for now:
Well done. And good luck.
Posted by Becky @ 9:16 pm
2 Responses to "It's like buttah"
Lance Says:
November 7th, 2008 at 11:55 am

Ooooooh! I haven't had Apple Butter on Toast since my Grandmother passed away. She used to make really good Apple Butter. Good on you. Keep those traditions alive!

Cyndi Says:
January 4th, 2009 at 10:26 pm

I knew I liked you! Can I buy some of that apple butter?
≡ Leave a Reply