A moment in time
December 23, 2010 | Words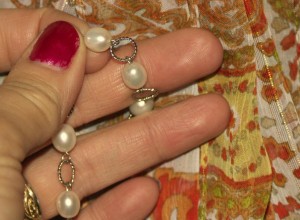 You know how someone says something that's simply perfect? Linda Lowen just did that in her post about Elizabeth Edwards, Saying Goodbye to Elizabeth Edwards and Remembering Dana.
Let me just say that some things were simply meant to just … be.
A summer day spent on a beach with two close female friends may be special in and of itself. But we're unable to retain a sense of the magic of that individual day when we see it as just one of many in a long line of bright, beautiful, shining days ahead of us, the days hanging like pearls on a strand, the years dangling like multiple strands on a necklace. It's only when we take that one pearl out of context and suspend it on its own chain that we see how rare, how lustrous, and how small a thing it is.
Beautiful. Thank you, Linda.