Lost and found
A year ago, my telephone rang at 3 in the morning. It was hospice. We might want to get there now before Mom died, they said in less clear words, which made it harder to snap out of my sleepy haze. I was the only family member they could get on the telephone. I started calling the rest of the family. Hospice called again at 3:30. Mom was gone.
It was Friday. I had to tell the kids at breakfast that they weren't going to school. And why. The grieving began.
We each dealt with our loss in our own way.
Except for the initial shock and the funeral, two of my children said very little. I broached the subject once in a while, but they made it clear they really didn't want to talk about it. I hadn't said anything for a while.
One morning, we were in the car on the way to school with the radio playing, and I was singing … "Hey, soul sister … ain't that mister mister …" when I heard this tiny voice from the back of the car. I turned down the music and asked, "What was that?"
"Do Christians die?"
Ah. I'd been waiting for this. But it still took me by surprise.
Then the questions just tumbled out, one after the other.
Will you die? Will Pappa die? Do we all die?
She asked all the questions, but the other two listened, while I did my best to answer them.
My other daughter wears her heart on her sleeve, and her grief was the most outwardly expressed. The loss of her grandmother has changed her indelibly. She's had a difficult time with loss or leaving or saying goodbye.
For the rest of the school year, she went through severe separation anxiety. She would sob and cling to me when I dropped her off at school (something she'd never done).
We backtracked. I read her "The Kissing Hand," and I gave her my heart locket. It was a gift from my mother when I first became a mother. I put a picture of me on one side and a picture of her on the other. I told her any time during the day when she missed me, she could take her kissing hand and hold on to the locket.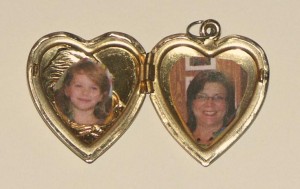 Then she lost the locket. We searched everywhere. Nothing. Everyone at school was keeping an eye out for it. It finally turned up.
…
She doesn't wear the locket anymore. But she still has a difficult time with goodbyes. We all do, I guess. We just show it in different ways. She still misses her grandmother. We all do. But she will always be in our hearts.