Sjømannskirken i Miami
Congratulations to the new Norwegian Seaman's Church in Miami! It will have its opening ceremony next weekend. HRH Crown Princess Mette-Marit will attend. (The church is named after her.)
We have some good memories of Sjømannskirken i Miami. It's where our son was baptized by Pastor Synnøve Wiseth during the Christmas Eve service in 2002.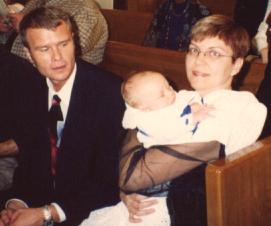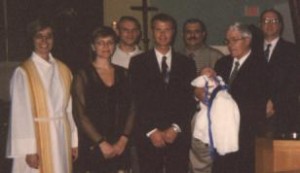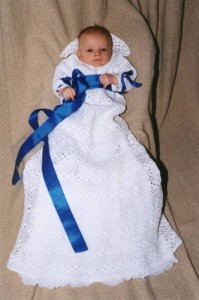 It's where our daughters were supposed to be baptized by Pastor Lasse Heimdal in September 2004. Because of Hurricane Frances, though, the church had canceled services, and the pastor and his family evacuated to The Norwegian Seaman's Church in New Orleans. Before leaving Florida, he he baptized the girls in our home on Sept. 3, 2004.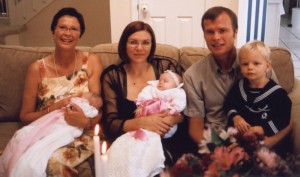 Our coffee table (that we got from Beste Rise) was the altar, covered by a white tablecloth made by Beste Rise. The baptismal font was a Magnor glass bowl from Norway.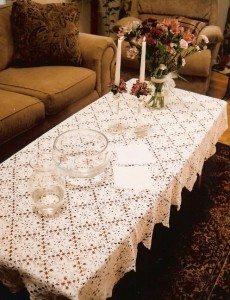 Great-great-grandmother Berta (Hestad) Hoem made Beth's baptism gown (at left) 95 years ago for Ole Hestad, her youngest brother. Many people in the family have worn the gown including the children's great-grandmother Rise, bestefar Anders and their pappa. Vågøy church in Norway featured the gown for its centennial Sept. 12 with mention of the first baby to wear the gown, Ole Hestad, and the last, our Elisabeth Marie.
Great-grandmother Petra crocheted Katie's baptism gown (at right) in 1984 for a cousin. It's the same one Andy wore in 2002.
Four major hurricanes – Charley, Frances, Ivan and Jeanne – hit Florida over six weeks in August and September that year, something that hadn't happened to one place in 130 years. Charley was a category 4 that hit Aug. 13. Forecasters believed it would come to Tampa, but it hit land just south of us. Frances hit on Sept. 5. We lost power several times for several hours at a time. We lost a large pine tree on one side of our house, even though Frances was "only" a tropical storm by the time it reached Tampa. Forecasters believed Ivan would come to Tampa too, but it stayed in the Gulf and hit Alabama and the Florida Panhandle on Sept. 16. Jeanne hit on Sept. 26. We were without power all day. We were luckier than most and got our power back the same day. We lost an even bigger tree in our back yard.
After that year, one might imagine how truly terrifying it was to see Katrina moving its way up the Gulf. At one point, forecasters put Tampa directly in her path. That was the only time I thought about leaving town even before evacuations started. Turns out, she veered to the west.
We are so glad the Seaman's Church was there for us — in good weather and bad. We wish them all the best with their new buildings!