Books: Stephanie Kallos
My husband reminded me recently that, with Nebraska now in the Big Ten conference, I'd better get used to hearing more about UNL and football rivalry here in Iowa.
I put up my talk-to-the-hand hand and said, "I refuse to participate."
Let me explain.
I don't care about football. Any football. I have gotten unwillingly sucked in to other people's football drama over the years, and it makes me uncomfortable.
I've been threatened with physical harm by fully grown strangers — men and women — for not wearing what they thought were proper colors on game days.
When ordering the new alligator postage stamps at a Tallahassee post office years ago, the woman behind the counter squinted her eyes, leaned in and asked, "Yer not a Gator fay-an, are ya?" I could swear I heard the click-click of a shotgun cock behind the counter. Or maybe that was the sound of my dry throat as I tried to swallow.
"Oh, no! No, ma'am! Not at all!" I said. (And I certainly didn't tell her I'm originally from Nebraska.)
I recently had a slip-up where I went out in public in a red UNL sweatshirt. It was covered by my coat until I got warm and unzipped it a bit. That was just enough for someone to see it and give me a hard time. The teasing was all in good fun (I think), and I said something like, "Don't worry, I wasn't on the football team. I just graduated from college there."
So? What in the world does any of this have to do with Stephanie Kallos and the Iowa City Book Festival?
Kallos read a passage from her book, Sing Them Home, in which the Nebraska fight song is mentioned. Then she did something I've never seen before and don't expect I'll ever see again.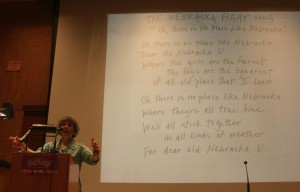 She got an auditorium full of Iowans on the University of Iowa campus to sing There is No Place like Nebraska. Not once but twice. Wow, that took some guts. I have to admit, I was a little nervous for her. Folks take their football seriously. But it was all in good fun (I'm pretty sure). Besides, she also asked them to sing the Iowa fight song, too. Whew!
Kallos also read her essay, "How to Write Your Second Novel or if You Want to Make God Laugh, Show Him Your Outline." It was brilliant. I can't wait to read her book.