What's cooking?
February 25, 2012 | Family,Food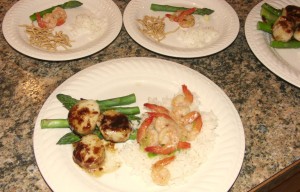 I made sea scallops from an A Food Centric Life recipe that I got from Amy. I also made something with shrimp, because my son really loves shrimp. It's always fun to try something new!
Posted by Becky @ 3:25 pm
One Response to "What's cooking?"
Cindy L Says:
March 1st, 2012 at 10:06 am

Looks wonderful! I love scallops, but have never had much luck cooking them at home. Will keep trying! Cheers!
≡ Leave a Reply