Family branches
June 12, 2011 | Stuff
We're going to Kansas next weekend to bury my mother's ashes next to where my father and his parents are buried. We thought about scheduling the burial for today, which would have been my parents' 51st wedding anniversary, but decided on next weekend because that's also when a family reunion will be held.
As part of the reunion festivities, we will get to see this house, which is 100 years old this year, and it's where my grandmother grew up. I took this photo 22 years ago (I think that's my Great Aunt Lindy off to the right), when I visited my grandmother.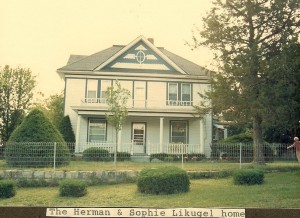 I wrote a story about that visit for a writing class. I always wondered what happened to it, and I finally ran across it when clearing out boxes last year. It's not brilliant writing, and the details may not be perfect, but I wrote it from what I remember my grandmother telling me.
Nov. 26, 1989 — This summer, I traveled to Kansas to spend a week with my grandmother. I had been working on family history, and I kept Grandma up late every night to tell me story after story. She recalled a bittersweet memory on my last day there.
We had spent the entire day driving around to several cemeteries so I could record headstones for my family tree book. Seeing the churches and the names on the stones brought back many memories for Grandma. We walked through the rows of markers, and as I paused for photographs, she reminisced.
Between stops at cemeteries, we drove past many farms and buildings she had known since she was a young girl. Each place opened a window to her past, and she shared her memories with me.
She told me of hiking across vast fields and encountering snakes and wild animals when going to visit neighbors' homes. She told me about her parents and how they built a brand new house on the old farm place where she grew up. It was quite impressive at the time, because it was the only house with running water, a bathroom with a toilet and tub, and electricity. She sat up straight as she told me about it.
Our last stop was a church cemetery. In it was one little gravestone with the name Kathleen Suzanne on it. The date was March 21, 1950.
It was the dead of winter, and Edna went into labor. Her parents lived across the state line in Nebraska, and she had been planning to stay with them so she could deliver at the Beatrice hospital. But now the roads were covered with ice and snow, and her husband, George, drove her into town to the brand new Hanover City Hospital. This was her fourth child and quite a surprise. Edna was 39 years old.
A young, new doctor was in charge at the hospital when George and Edna arrived. Edna's labor was very difficult and wasn't progressing as well as with her other three children. George and Edna began to worry; the baby should have been here by now. They wondered what was wrong. The doctor decided Edna should stay where she was instead of making the trip to Beatrice for surgery.
The baby finally decided to arrive. Oxygen was needed. The hospital had just celebrated its grand opening, and the oxygen tank had never been used. There wasn't a wrench to turn on the oxygen.
George scrambled out of the hospital and bolted down the street to the hardware store. Nobody was there, so he scanned the shelf and grabbed a wrench, praying as he raced back to the hospital that it would fit. The wrench fit perfectly, and the baby got the oxygen she needed. Little Kathleen Suzanne died the next day.
Grandma recalled the day when Grandpa was on his deathbed in that same hospital. He raised his hand and pointed at the wrench beside the oxygen tank he was breathing from. He looked at Grandma and nodded. Grandma knew he was telling her that it was the same wrench he had swiped so many years ago on that cold day in March.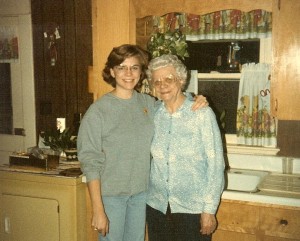 Posted by Becky @ 1:56 pm
4 Responses to "Family branches"
≡ Leave a Reply