Food: Potato salad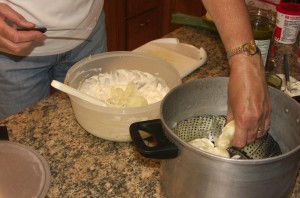 Yes, there are hundreds of ways to make potato salad. One of my favorites, though, is the way my mother-in-law makes it. She shared her recipe.
16 ounces sour cream
6 ounces mayonnaise
3 tablespoons dill pickle brine
1/2 apple, chopped
2 dill pickles, chopped
1/2 leek, sliced
7 potatoes, cooked and diced
Mix all together. Let set. Serve with dinner from the grill.