I'm looking at you through my window
I put pictures together of the robin's nest in our window for the kids to take to school. They brought them home, and we looked through them again. They asked if the nest was empty now. I said, yes, it was. About 10 minutes later, one of them came running to me, "Mommy, Mommy, come and see! There are four eggs in the nest!"
What? Are you kidding? Nope.
There are four more eggs in the nest. Here we go again.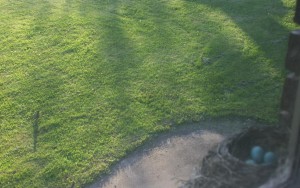 Posted by Becky @ 6:00 am
2 Responses to "I'm looking at you through my window"
Cyndi Says:
June 3rd, 2009 at 7:43 pm

It's nice when even the birds know what a great place yours is to be! Enjoy this next voyage :-)

Kathy Says:
June 3rd, 2009 at 8:32 pm

What considerate robins they are! Hmm! 14 more days after she keeps sitting and you will have more fun watching the whole hatching to flying stages.
≡ Leave a Reply