Update 8 on robins
Both mom and dad birds hover near the nest, chirping away. I imagine they say something like, "Your brothers and sisters all took off, went to school, graduated from college, got jobs and started families of their own, and here you sit. Why don't you get out there and get a job?"
And he's all, "Nah. I'm good. Oh, hey, could you bring me another worm while you're up?"
And they do.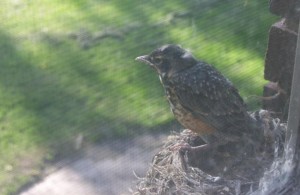 Posted by Becky @ 6:00 am
2 Responses to "Update 8 on robins"
Caroline Says:
May 28th, 2009 at 7:50 am

Love it! Glad to see there is plenty of fun wildlife where you are too now. :)

MammaLoves Says:
May 29th, 2009 at 7:12 am

Guess when you have a lot of kids the chances of one refusing to grow up and leave increases exponentially.

i have some bird family starting in one of the boston ferns hanging outside. It's too high for me to really peep.
≡ Leave a Reply