Books: Growing up Country
I got to meet Carol Bodensteiner at the Talbot Belmond Public Library on Tuesday night. I had her book already but hadn't read it yet. I was compiling a list of Iowa authors for an article and found that she'd be speaking about 45 minutes away. I couldn't pass that up, could I?
Bodensteiner talked about her book Growing up Country: Memories of an Iowa Farm Girl, and she read some passages that had us laughing out loud. She listened as we told some of our own stories of mean chickens, 10-cent movies and amazing mothers. Bodensteiner is warm, charming and funny. I'm reading her book next.
Here she is signing books.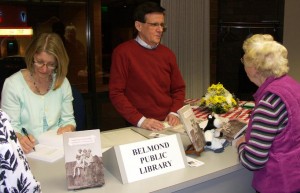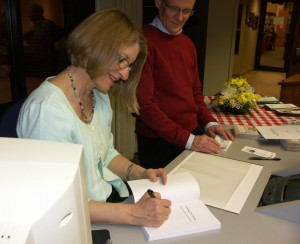 I'll post the list of authors after the article's published.
Posted by Becky @ 6:00 am
2 Responses to "Books: Growing up Country"
Deep Muck Big Rake » Books: Growing up Country Says:
August 5th, 2009 at 3:29 pm

[…] met Carol Bodensteiner in April, and I recently read her book, Growing up Country: Memories of an Iowa Farm […]

Deep Muck Big Rake » Books: Iowa books & authors Says:
August 6th, 2009 at 6:05 am

[…] As promised, here's a list of Iowa books and authors. […]
≡ Leave a Reply