8 years
Eight years ago tomorrow, I was on bed rest. I was 29 weeks' pregnant with twins. Trond was working from home, because I had been having complications. Cousin Marita had taken Andy out for a walk.
I wasn't feeling great. Things got worse. I told Trond to take me to the hospital. My heart sank when I saw Dr. Jaeger there. He had delivered Andy. I thought it was a (not great) sign that he was on call this day. Things were not good. He told me I'd need an emergency C-section. From the minute we'd arrived at the hospital, we had tried to reach Marita on the telephone. I was panicked about ALL my babies, and it wasn't until we heard that Marita and Andy were safe at home that I could go into the OR.
I was out. I don't remember a thing. But they told me Katie cried when she was delivered. (They didn't think either of the girls was big enough to make a sound.)
They were in the NICU for six and seven weeks. They've been going strong ever since.
I can't believe they're 8.
Happy birthday, my beautiful baby girls!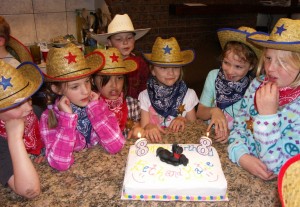 Posted by Becky @ 8:09 pm
3 Responses to "8 years"
magpie Says:
April 29th, 2012 at 7:07 pm

Yeah!!

Sarah Says:
April 30th, 2012 at 10:59 am

Happy birthday, ladies.

Karen Thurston Chavez Says:
May 2nd, 2012 at 11:35 am

Happy birthday, Beth & Katie!
≡ Leave a Reply