Forgiven: Los Lonely Boys
Forgiven by me? Nah. I still can't get Los Lonely Boys ringtones on my Alltel cell. Waaaaaaaah. C'mon, Boys. Help me out here.
No, "Forgiven" is their new album released this summer. I don't think they need to be forgiven, unless it's a sin to recruit a new generation of music lovers. My kids give "Superman" six little thumbs up.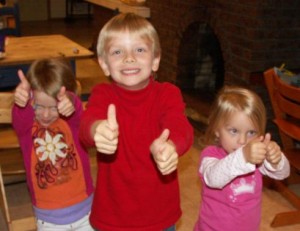 It's the hands-down (umm, thumbs up) favorite. It rocks.
See their Superman muscles?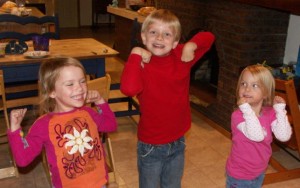 All the songs on the CD are originals written by the Boys, except "I'm A Man," a Spencer Davis Group song. Seems they've gone through some broken hearts, hence the theme and abundance of songs about losing love, making it better and being forgiven. They tie it up in the end with being grateful and trying to save the world with the last track, "The Way I Feel."
They don't hit them all out of the park, but, oh my, "Another Broken Heart" has great rhythm and "Loving You Always" is a sweet and simple love song. It's right up there with "Texican Style." Mmm, good.
Posted by Becky @ 2:31 pm
One Response to "Forgiven: Los Lonely Boys"
Deep Muck Big Rake » Los Lonely Boys: Always Says:
December 3rd, 2008 at 1:00 pm

[…] After listening to Superman, oh, 5,394 times, the kids were finally interested in hearing what else is on LLB's Forgiven CD. I picked Always, my favorite, and now they call it "Mommy's song." They like it because the tune reminds them of the Curious George song. But my son also listens to the lyrics and realizes it's a love song. […]
≡ Leave a Reply